Consulting and Application Technology
Oil free Metalworking Fluids · Cleaning Products
Daniel Stocker | A-3533 Friedersbach | Wolfsberg 28 | +43 (0)664 18 200 77 | stocker@umwelttechnik-stocker.at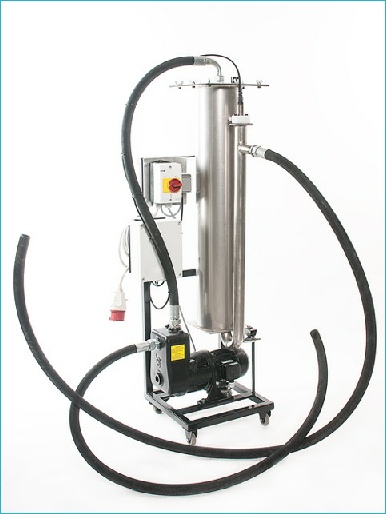 NBC- Filter System - Natural Bacteria Cleaning
For a clean process liquid
The NBC - filter system is a useful, mobile equipment for each maintenance department , which is takes care of the water process fluids and of metal working fluids.
The device operates with a specially designed filter system which is powered by a powerful suction pump. This pump has been developed for contaminated metal working fluid, in order to handle even metal chips. Tramp oil absorbing filter bag are supplied as standard with a filter size of 1µ. The filter bag can be of 1-3 ltr. tramp oil. This special filter bag can be used several times, so that operating costs can be significantly reduced ( more filter sizes on request ).
Furthermore, the system is equipped with a special UV lamp, which is used for rapid and effective reduction of bacteria . For power supply high voltage (400 V) is needed and controlled by a main switch.
The filtration unit is on industrial rubber wheels and, therefore, ideal for use that requires a portable unit. Furthermore, the filter system is designed by its sophisticated and space-saving construction specifically for applications where space is limited.
Application Field
filtering of metall working fluids
filtering of metall chips
filtering of mud
filtering of tramp oil
reducing of bacteria
Advantages
Easy to use
foreign oils , dirt and metal particles eliminated
Immediate (simultaneous) bactaria reduction (switchable)
reduction or complete avoidance of
bactericides , system cleaners
Cost savings through reduced use of chemicals
longer life time of the process fluids
Flexible and robust filter unit
less space demanding
reduction of disposal costs